About Our Firm
Oxford Retirement & Estate Planning Inc. is a quality-driven financial solutions firm that helps individuals and businesses achieve their ultimate financial goals. Our primary focus is helping find solutions for many of our clients' financial needs — whether they are saving for retirement or living it.

Our firm has long-standing relationships with a variety of financial companies that offer a wide array of products and services. This allows us to design plans tailored to your financial needs and goals. As independent brokers, we have the ability to choose the companies that we feel provide suitable services at the best value. We want to be your trusted adviser.
Our services include:
Retirement income strategies
Wealth accumulation
Asset protection
Annuities
Life insurance
Tax minimization strategies
Long-term care
IRA and 401(k) rollovers**
Trusts*
Charitable giving strategies*
Tax strategies
 IRA legacy planning*

Michael Oxford
Founder, Wealth Advisor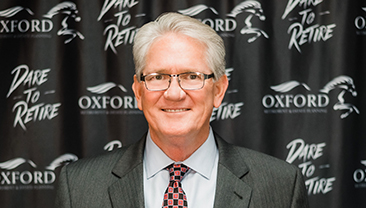 Michael Oxford began his career in the financial service industry in 1980, at the age of 21, working for Mutual of Omaha. Four years later, he set out on his own as an independent insurance producer, with his focus on helping retirees. In July 1997, he founded Oxford Retirement & Estate Planning, Inc. (OREP). In 2007, Michael added an array of investment options for his clients, allowing him the ability to be diversified in all aspects of retirement and income planning.
As an Investment Adviser Representative, Michael seeks out high-quality strategies both in the investment markets as well as insurance products. His experience includes wealth and risk management, IRA and income planning, tax-efficient strategies, long-term care and charitable planning. Michael puts a strong emphasis on educating retirees and pre-retirees and holds several adult financial workshops at the local community colleges. He offers follow-up complimentary coaching sessions for all who attend. In addition, he offers complimentary consultations to those individuals who have not attended a workshop but would like a personal one-on-one meeting. Michael's main objective is to help those who are nearing retirement make informed financial decisions.
Michael lives in Peoria, Arizona, with his wife, Sherri. They have two beautiful daughters, Brittny and Paige. Michael enjoys hiking; relaxing at their family cabin in Prescott, Arizona; and salmon fishing in Canada and Alaska every summer. He is very active in the community and previously served as president of the Arizona Cowboy Mounted Shooters Association and on the Grand Canyon chapter of the American Red Cross Board of Directors. He is also an avid supporter of several local charities, one of which is St. Mary's Food Bank. Since 2011, OREP has collected tens of thousands of pounds of food donations for St. Mary's as well as orchestrated several volunteer groups to donate their time to work at the food bank alongside Michael and his staff.
We welcome the opportunity to discuss ideas and alternatives with you, by phone or in-person. To schedule a time to discuss your financial future and the possible role of insurance or investments in your financial strategy, contact us at mikeo@oxfordretirement.com or call the office at 623.933.9508 today!
By contacting us, you may be offered information regarding the purchase of insurance and investment products.
Insurance products are offered through the insurance business Hybrid Retirement Solutions, LLC DBA Oxford Retirement & Estate Planning. Investment advisory products and services are through AE Wealth Management, LLC (AEWM), a Registered Investment Advisor, and are marketed under Oxford Retirement & Estate Planning. AEWM does not offer insurance products. The insurance products offered are not subject to Investment Advisor requirements. AEWM and Hybrid Retirement Solutions, LLC DBA Oxford Retirement & Estate Planning are not under common control or ownership.
*These services may involve referrals to other professionals.
**Guarantees are backed by the financial strength and claims-paying ability of the issuing company and may be subject to restrictions, limitations or early withdrawal fees. Annuities are not FDIC insured. Your investment advisor is not permitted to offer, and no statement contained herein shall constitute, tax or legal advice. You should consult a tax or legal professional on any such matters.